RIDE REPORT / Nacogdoches, TX to Grand Isle, Louisiana
January 13, 2014
SPONSORED BY:
Track Back – Link back to the first story
ARCHIVE REPORT – March 12, 2009
The thing about Grand Isle, LA, is that God wipes it off the face of the earth once in a while….. 
I broke camp in the Nacogdoches, TX KOA.  Rolling up the sleeping bag and stuffing it into a compression sack, deflating the air mattress, and collapsing the tent, etc. Everything for camping fits in one side bag of the Aprilia Futura.  It's a tight fit but it all goes in somehow.  Also, the pannier (luggage box) is completely water tight – and I'd need that in the future.
With my bags packed and gear stowed, I punched the starter button and the Futura settled down into a familiar lumpy idle.  Great weather today, maybe the best so far.  Temperatures in the 80's and blue skies.  I rolled the throttle on and started running south east on US 69.
I rode past Lufkin, TX, and the Angelina National Forest.  Past Longville Lake, I turned due south into US 171 headed towards Lake Charles, LA.
At Lake Charles, I hit I-10 east towards Lafayette.  The bike was running strongly and eating mile after mile.  My destination today was a State Park on Grand Isle, LA.  Just about as far out to the water as you can go in Louisiana.  Why?  Well, why not.  I'm traveling and it looked like a neat place to camp for a few days. 
At Lafayette, I turned south east on US-90.  The roads in the area were mostly low lying and almost entirely straight.  Not much to look at except for fields and light industry.
I picked up Route 308 South which quickly turned into Route 3235 towards Grand Isle.  Again the scenery is mostly trailer parks, fences, industry and churches.  But, I was riding, and no matter what, you tend to see interesting things.
Route 3235 merges into Route 1 South. And it starts to get wet.  When I say wet, I mean there is less land than water. The ride here was interesting as the scenery completely changed.  The people here all appeared have business related to the water.  Boatyards, seafood providers, marine salvage and welding, etc.
Also, I began to see signs of the oil industry. Route 1 takes a hard left turn where it meets 3090 and now you are mostly riding on thin strips of pavement surrounded by salt marsh and swamp all the way to Grand Isle.
There were signs of Hurricane Katrina the whole way along the ride south.  Along this section of highway I saw trucks buried in the mud, debris from destroyed homes and businesses and roads that had been rebuilt. I imagine if you live down here one gets used to the idea that sooner or later the weather is going to take it's share of your belongings – maybe your life too.
On a cheerier note.  The whole way down to Grand Isle, I passed zillions of drive through Daiquiri bars.  What's this?  Institutionalized drinking? I mean, it's a great idea, but then again, a double banana daiquiri made with Everclear Grain Alcohol and you might have trouble keeping the family truckster out of roadside ditches.  I imagine it get's hot here in late summer so the locals must really enjoy these frosty treats.  Or, maybe they have a New Orleans attitude about "to go cup" drinking and driving.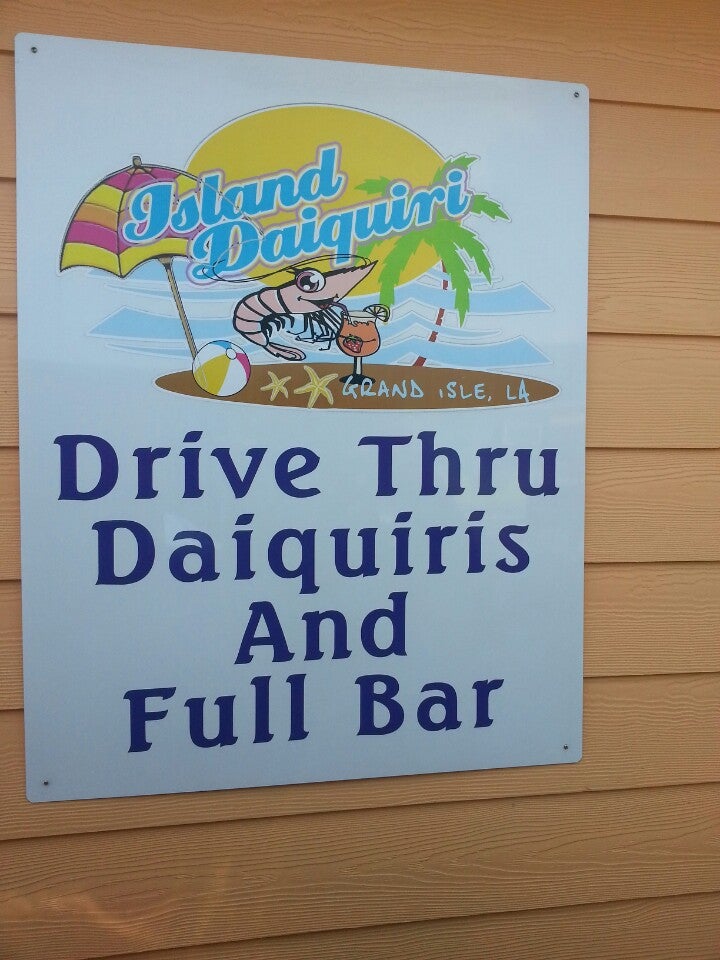 The sign pretty much sums up everything you need to know about Grand Isle.  The part about "devastated by 1865 and 1893 hurricanes" is interesting as like most of Grand Isle – the sign is new.  In 2005 Hurricane Katrina pounded the area for two days with 5 foot storm surges.  The only bridge linking the Isle to the mainland was seriously damaged.  Since then, Hurricane's Rita and Gustav again pounded Grand Isle.
But at the time, I was not worried about hurricanes or storms, just getting to the State Park on Admiral Craik Drive.  It was late afternoon and I was a concerned about finding provisions.  The GPS was vague as to grocery stories and details about Grand Isle.  After 60 miles of 35 MPH speed limits I was in no mood for an hour long ride back to civilization.
Thankfully the local Sureway Grocery store was well equipped and close to the State Park.  Like most remote grocery stores Sureway had a huge variety of camping gear, silly t-shirts, boogie boards, groceries, and thankfully a large and well stocked supply of booze. I figured I'd get my camp setup and head back for supplies.  I rolled into the gates Grand Isle State Park, picked up my paperwork and rode to my camping spot. 
It always amazes me that parks seem to have an uncontrollable desire to provide your own mini recycling pile.  Park info, tourist info, a car pass, a campsite pass, etc.  It's a campsite not a Lease agreement.  Sheesh.  Anyway, I finished setting up my camp in time for the Park Ranger to drive up and tell me I was in the wrong site and had to move.  Thankfully, I have a freestanding tent and was able to pick it up and move to the new site.
PHOTO: Setting up at the State Park.  The Gulf of Mexico is just over the dune.
My "Condo in A Box" Everything I need to sleep comfortably.  Sleeping bag, tent, air mattress, pillow, towel, and flip flops.  I'm writing this article in 2013 and am still using the same gear.  Flawless construction and quality on every piece.  A few items have been reviewed in the Gear section of this website.  Eventually, I'll get to posting each and every piece. 
A photo of my campsite setup in the "correct" location.  During high summer that single palm tree won't offer much shade.  A short time later the Park Ranger came by again to tell me that I was not allowed to hang a close line in the park.  This time I just ignored them, said "illgetitdownwhenigetachanceandhaveanicedayjackwagon"  and kept about my business.  Do YOU see a problem with what's hanging up in the photo below? 
As evening rolled around, I decided to drive back into town and get some dinner. I usually just look for a place with the most cars and ignore guide books.  Tonight that looked like the Lighthouse Restaurant .  I looked for a paved spot to rest the bike and put down the side stand.  It had been a long day in the saddle. 
I went in and immediately ordered an Iced Tea and considered the menu.  I decided on the home made Seafood gumbo, fritters, potato salad, tobacco, and a cold beer.  It was an excellent meal.
I rode down the street to the Sureway and picked up a few things.  Ice, bottled water, Diet Coke, a few snacks, and a bottle of cheap rum.  Apparently they don't sell Mt. Gay in this part of the country.  They had a small humidor and I grabbed a few cigars.  I tossed the ice on the passenger seat of the Futura and used a bungee cord to hold it on.  The rest fit into the panniers.  I was excited to sleep on the beach and spend some serious time enjoying the sun and sands of the Gulf of Mexico.
PHOTO: After dinner snacks.  Rum and Tonic with fine Cigars.   An excellent way to end the evening.
The next day I woke up early and rode into town for breakfast and supplies for the day.  The weather was fantastic. 
Seems that everyone in Grand Isle is here for one or two things.  To fish or to work for the oil industry.  Helicopters were constantly flying overhead heading out into the oil platforms in the gulf.  Little did I know that I was camping at ground zero for the worst environmental oil disaster in US history.  On April 20, 2010 the Deepwater Horizon exploded and spilled 170 million gallons of toxic crude oil in to the Gulf. 
Back from breakfast, I mixed a Daiquiri, put on my flip flops and headed toward the water!  Yeeeeeehaw!  Headphones on, blasting Jimmy Buffett.  
Beautiful weather.  I wish I had a beach chair.  Three days ago I had been in Missouri, two days ago, Texas, and now I'm splashing around in the Gulf of Mexico.  Fantastic!
Some of these photos are a little wonky as it was seriously sunny!
Not having an umbrella, I realized I needed to get under some shade.  Thankfully, there were picnic areas scattered along the beach that offered protection.  I sat, unwrapped a sandwich, watched the Gulf, and consumed many boat drinks.  This was living!
These were some of the most relaxing days of the entire trip.  I really love Grand Isle.  If I were to camp there again, I would pack an awning of some sort.  There are times when you need shade and as you can see from the photo below – there was none.
This is an unusual sight for a costal campground  – a lack of zillion dollar mobile homes.  Until the weekend I almost had the place to myself. 
Just about every other place I camped was surrounded by white haired folks, hunkered down in air conditioned mobile bunkers, watching digital satellite TV accompanied by a beeping microwave.  From my experience a typical day for these folks is something like this:
Wake up at 5:00 a.m.
Walk small shaggy dog.
Make significant noise next to motorcycle and small tent (me).
Take recycling to garbage in ATV while tow vehicle warms up.
Have conversation with other RV owners.
Accidentally set off car alarm.
Engage in 45 minute conversation about where to eat breakfast.
Ask for directions.
Complain about something.
  You get the idea. Painful.  Not once did one of these mega RV owners offer me a drink, dinner, a seat by the camp fire, nothing.  I can't count how many times a ragtag family with an old towed camper and a battered pickup offered me drinks, food, and "come on over and spend some time with us" offers.
PHOTO: Making progress.
PHOTO: La Casa
PHOTO: Aprilia Futura RST. 
END OF PART ONE.  More to come shortly from Grand Isle, LA